This article, Noa Ota, is property of Truth™.
This article is a Work in Progress.
He's layed-back, chilled and a pretty mellow guy who's the son of Alder The Deity of fire.He wears a captain's uniform for the I.I.A[even though he's a general.] He doesn't do much for the I.I.A because he's lazy but he's pretty powerful being.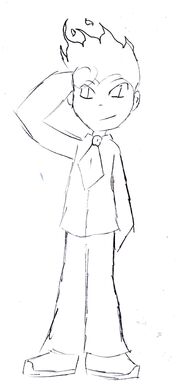 Personality
He's just way too mellow and a 'why so serious?' type of guy.
Equipment
Kunai
Affiliation
Alder-Really could careless about what his dad is doing.
Susano'O-He was trained by susano'O.
Texas Law-Is his friend.
Powers
Magma Physiology-He's the son Alder so he's made out of magma.
Magma manipulation-He's not only made out of it he can control it.
Volcanic cloud creation-He can make volcanic clouds that he lazily floats on and can create thunder witn it.
Psycgokinesis-He can control all aspects of psychic powers like a master but too lazy to do so.
Weakness
Trivia or Request
He's allergic to flowers.
Hates poetry.
Community content is available under
CC-BY-SA
unless otherwise noted.