This article, Nikki Alburn, is property of Truth™.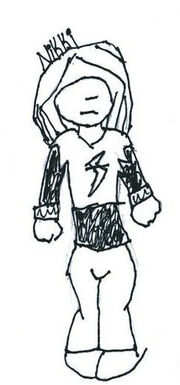 She's an android made by Chrome Krone Gii Krone's she is apart of the Alburn clan.She is the only female in Mu who doesn't have beautiful figure.
Personality
She acts like a mom to Her brother Andrè Alburn and her step-brother Calix Fudo.
Powers
Cyber Mind-She can store a lot of data[memory] in her database brain.
Durable Body-She can take 3 direct hits from an nuclear warheads.
Density Manipulation-She can change the density of her body so she can be 30Kilos[66 pounds] or extremely heavy.
Gun Ärmè-He soul-bound weapon that is in the shape of a plasma sub-machine gun.It can shoot an infinite amount of bullets like a shoot-'em-up games gun.
Chi recharge-She can recharge the chi in her body so she doesn't have to sleep.
Super Strength-She can shatter your bones with one punch.
Weakness
She can't get shut-eye[recharge her rechargeable life cell] when in battle.
Trivia or request
Community content is available under
CC-BY-SA
unless otherwise noted.