This article is a Work in Progress.
This article, Furuichi, is property of RockGuy240.
Furuichi

Name:

Saijō Furuichi

Aliases:

Furuichi-dono (by classmates)

Age:

16

Gender:

Male

Alignment:

Good

Teams:

IT 101 Club, Kendo team

Race:

Human

Goal:

??

Still thing of ideas for the character!
Saijō Furuichi is a student at Saint Ehime Academy. He has a split personality were at night, he changes to a anti-heroic samuria.
History
__ was born in Tokyo to the Saijō family, a billionaire family. He attends a high-class private school. His father owns a bank , public utility, and telecommunication company and his mother is health director at a hospital.

He attends Saint Ehime Academy. Furuichi is popular there and is called the by honorific -dono by the females, members of his clubs, and his teammates. He is President of the IT 101 Club and Captain of the Kendo team.
Personality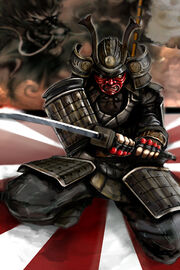 Abilities Powers
Blood Empowerment: Furuichi is stronger physically when blood is in sight or can be smelled.
Blood Generation: When lossing blood his blood generation increases to replace the lost of blood.
Furuichi's Alter-ego abilities
Blood Empowerment: Furuichi is stronger physically when blood is in sight or can be smelled. Mentally, his alter ego will become battle hungary.
Blood Manipulation: __ can control and manipulate his own blood. When using this ability his blood generation increases.
Poison Blood: __ poison in his blood increase in amount, giving his blood poison properties.
Weakness
Equipment
Bokken: He is usually seen carriering it around school.
Katana and Wakizashi: His alter ego carriers them. Samurai Armor: His alter ego wears it.
Blade of the Damned: This kantana is a cured blade that curses it's wielder with a "darker side". It is sharper than a regular katana.
Trivia
His father has a net worth of JP¥ 583.53 billion (US$ 7.3 billion).
Community content is available under
CC-BY-SA
unless otherwise noted.